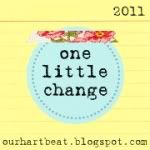 So, I've just been a little frustrated this past week. I have this really bad habit of bogging myself down with projects and then I'm rushing to get them finished and pretty much neglect everything else in the process. Earlier last week, I was working on crocheting an afghan (at my leisure) and a doll (again, at my leisure) and knitting a stocking for next Christmas (obviously no serious deadline, but I had hoped to finish it in January). Then I remembered... my Dad's birthday is coming up and my brother-in-law just had his birthday which means we need to have a family get-together to celebrate. Like this coming weekend. And I haven't made them a thing. So I had two things with a pretty quick deadline thrown into the mix. Then Olivia came home with a note from school saying she needed a hat with 100 objects on it for their 100th day of school. And did I just say "hey, we'll head to the store and buy a hat and something to glue on there! No big deal." Of course not. I'm making 100 pompoms and tying them onto a handmade hat. By next Wednesday.
Needless to say, instead of dancing and reading, you can find Momma on the couch with her crochet hook or pom pom maker. Not really what I need to be doing.
Of course, I will admit that yesterday, after making may daily allotment of 25 pompoms, the girls and I sat around making pompom necklaces and bracelets. Olivia did very well with the pompom maker. I had to tie it, but she was able to wind it and cut it. The other two needed a little (lot) more help. So it's not like I totally ignored them. We had some crafty mommy-daughter time.
Anyway.... I'm shaking it off. I'm kind of amending my previous changes to focus on spending some quality time with the kids daily. Even if I have a ton of things to accomplish... unless they can actively help, it can wait until they go to bed.
My most recent change has been all for me. Drinking more water. I like water. I like soda more. So I made myself a deal. I can have ONE soda if I drink 3 of my water cups full of water. I think it's probably 24oz. I keep forgetting to measure. I've been very good about it. Before I'd have at least 3 sodas a day. They're diet, and half of them are caffeine-free, but I know they're still not good for me. I have my one cup of coffee, three glasses of water, and then I can have my soda (which I normally hit that goal around or after dinner time) . I almost didn't even have one yesterday. I waivered.... eventually I'll cut the soda out...